Welcome to our new website!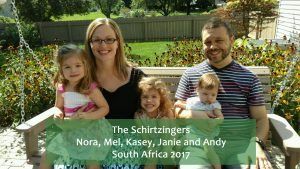 Hello and welcome! We will be using this website to provide frequent updates on what our family is up to and what is new in the process of moving to South Africa to do missions with Operation Mobilization (omusa.org). We want to spread the love of Jesus and the hope of what He offers all of us.
My family and I (wife Mel and three daughters Kasey, Nora, and Janie) are planning to move to Port Elizabeth, South Africa, in August 2017 to minister to the poor and vulnerable in the local slums (townships). Here are the details of the ministries that we will be involved with:
Khanyisa Credit in Walmer Township
Build relationships through the facilitation of small loans for starting individual businesses
Education on maintaining a profitable business for the uplifting of the community and the advancement of God's kingdom
Business for Transformation (B4T.org)
Partner with B4T to assist Africa For Christ church planters in "tent-making" business opportunities to give them sustainable income and influence in their communities
Mel's Ministry Opportunities
Partner with local ministries to work with vulnerable children and orphaned children
As members of Operation Mobilization, we are fully dependent on finding partners who will support us through both prayer and finances. This has been an amazing process for us in trusting the Lord to provide individuals and families who want to see His work done in South Africa.
Here is an update on our support-raising situation:
Monthly financial need: $6100.00
Current at 51% funded
Goal for 100% funded: April
If  you are interested in partnering with us, please visit this link and search for Schirtzinger to set up online giving: https://my.omusa.org/give.
Lastly, here are a few prayer requests for our family if you want to pray for us:
Protection as we begin to prepare to move to South Africa
Continue to trust the Lord to provide for our security and finances
The hearts of Kasey, Nora and Janie during all of this transition
The Lord would begin to prepare the hearts of those we will be ministering to
Thank you for visiting our website!
Blessings and cheers,
The Schirtzinger Family